Hey Everyone!!!
You don't even know how bad I feel that I haven't been blogging!
Whenever I haven't blogged for a while, I start avoiding my blog like the plague…as if someone is going to catch me here and askme why I haven't blogged lol!
Meanwhile, can you believe that it is basically December???
Amazing. Isnt it?
This year has been like a rollercoaster….I don't even know how to explain it. I just thank God for all his blessings.
Happy Birthday to my Mum!!
Her birthday was a couple of days ago…I wish I could put her pic up cause she's sooooo gorgeous! For real!
I am going on holiday soon. I totally need a break! I haven't had a real break in about 2 years. Honestly, I cant wait to sleep in until midday!
Anyways, this is Weekend Luv.
CLICKS & FLICKS
Mo Abudu
, HR Consultant and Hotelier launched a TV talk show on MNET at the beginning of the month. The show is very professional in terms of the set etc.. and the choice of guests is quite stellar. I admire Mo sooooo much and wish her the best of luck. She held a launch event for the show some weeks ago and Angie Stone performed. See photos below.
Read an excellent review of the show -
HERE
Show website -
HERE
Kunle Afolayan is the latest celebrity that has voted off
Celebrity Takes 2
.
Have you guys been watching? I actually love this show…yes, there are some things that could be improved, especially the DANCING but I still find it very entertaining.
BBA2 Runner-Up Ofunneka
has denied being assaulted by Richard in the BBA House. She said she was intoxicated and regrets her actions but does not blame Richard. Hmmm…I disagree but she has said her piece.
The new issue of
Made Men
is out. I have to give them props for their consistency so far. This issue is HOT! They've got a mix of personalities featured.
From Deola Sagoe – Stunning
To Gboyega Balogun – Sauve
Then Male Nigerian Bloggers – Hot
Finally Ini Edo – Hmmm
Check out the photos below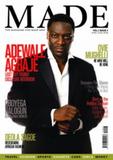 Visit their site
HERE
You can grab a digital edition -
HERE
POPPIN'
Runway to Cure in TX tomorrow.
Please go out and support!
So proud of this initiative by TC Ikponmwonba
HITS
I've got loads of great music for y'all today!
P Square - No One Like You
From their new album, Game Over - I'm actually feeling this song.
I hope this album is as hot as the last one.
Falz - Shakara
LOL....You have got to listen to this! Sooo sooo funny!
Kush - Angels

This is the flashback song of the week. I LUV this song....this was such a fab intro to Kush. I am glad all the girls are doing so well. Make sure you pick up TY's Greenland and Lara's Forever in my Heart!!
Blak Jesus - Omo Alata
LMAO! Homeboy is a nutter!
That's it for now.
Have a fab weekend.
Kisses
~Bella