Happy Monday!
I said I had something special planned for today so here goes.
It's the BellaNaija Hot List II
Its my take on the hottest things of the moment – People, Destinations, TV Shows and many more…
Its my opinion so you don't have to agree but I would love you to enjoy so here goes…
__________________________________________________________ THE LOOK – Yellow & Puff-Sleeves

Without a doubt, Yellow is the colour of the season.
You don't have to go all out with this and do a matchy yellow outfit.
Throw on a yellow dress or bag or even just a yellow headband, a dash of yellow is enough to make you look uber-fab….
Puff-Sleeves are definitely in! They are flattering to people with various figures. Try a puff-sleeved shirt with a more classic bottom (jeans/pants/skirt) or go all out with a puff-sleeved dress in a bright colour.
Check out Deola Sagoe's embellished yellow puff-sleeved dress or Kemi's more avant-garde Lanre da Silva-Ajayi outfit. The yellow bag is by celebrity-favourite, Nigerian handbag designer, Onna Ehrlich.

THE SPOT - 6°n

6°n (sixdegreesnorth) is the spot. With its high concept design, atmosphere and crowd, 6°n is THE Hot Spot.
THE DESTINATION - Cross River State, Nigeria
Cross-River State is the ultimate tourist destination in Nigeria. From Obudu Ranch Resort to Tinapa, there is a mélange of possibilities for you to explore. Ask anybody who has been, its totally worth a visit! You will be quite proud of Nigeria.
THE MAG - What's New
What's New? I'm sure you'll like to know.
To find out the hottest and freshest places to visit in Lagos, you need to grab a copy of 'What's New – The Lagos City Guide'. Photos, articles, reviews and all you could possibly want to know about the current Lagos social scene. I guess the first form of flattery is competition so look out for new city guides such as Time Out Nigeria.

THE BIZ - Nigerian-Owned Makeup Lines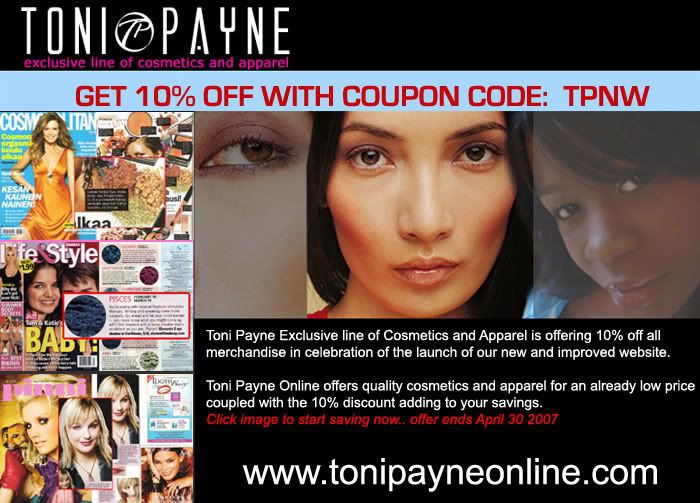 Nigerian-owned Makeup Lines such as Tara Fela Durotoye's
Tara Orekelewa
,
Toni Payne Makeup
,
BM Pro
by Banke Meshida-Lawal and
LISE
by Enitan Balogun are doing extremely well. They are a favourite among women who want quality makeup that is especially made with the African woman's lifestyle in mind. Some of the lines also offer young Nigerian women an opportunity to earn extra income by acting as retailers of the products. Entrepreneurship + Beauty = Definitely HOT.
THE READ - Yellow Yellow

Kaine Agary
's 'Yellow Yellow' has built a lot of buzz! From the editor-in-chief of Takaii Magazine comes a surprisingly poignant tale of a lost soul with the Niger-Delta region as a worthy backdrop. Yellow Yellow is definitely worth checking out!
ORIGINAL IMAGE SOURCE
THE PHENOMENON - TV Talent Shows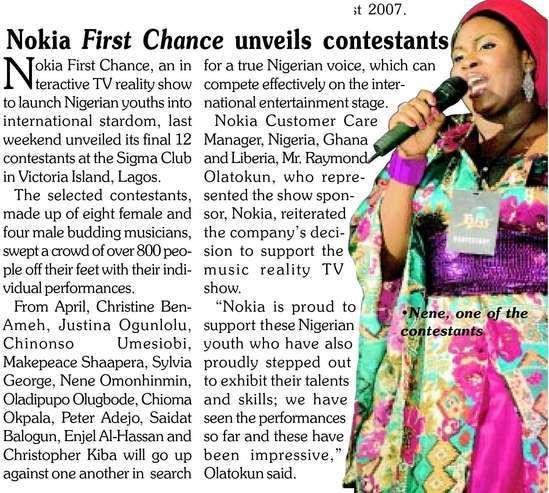 Last year it was Big Brother Nigeria, this year, its
Nokia First Chance
,
Shine
,
Star Quest
and most famously,
Idols West Africa
, there are so many current TV Talent Shows yet the viewing audience can't seem to get enough. TV Talent Shows are the hot phenomenon.
THE CAREER - Styling/Image Consulting
Last year it was Make-up Artistry, this year is the Year of the Stylists.
From former Miss Lux,
Ifeoma Njoku Williams
to uber stylists -
Omoyemi Akerele
and
Bola Balogun
back to
Ezinne Ihe Okuneye
and
Chalya Shagaya
, stylists are doing big things. From the photo spreads you see in True Love Magazine to styling the contestants on Idols West Africa and Nokia First Chance to fashion shows. Styling/Image Consulting is a fun and HOT career. Worth exploring? That's up to you!
THE WOMAN - Osayi Alile Oruene

Through encouraging and teaching young Nigerians about the merits of entrepreneurship and training them for their future entrepreneurial ventures via the FATE Foundation,
Osayi Alile Oruene
has made an indelible mark on the next generation. She was recognized as one of 250 Young Global Leaders for 2007 from the World Economic Forum.

THE MAN - Matthew Mensah
Health PR's
Matthew Mensah
along with Femi Amure conceived the idea for the
UN CatWalk the World – Fashion For Food Program -
See CatWalk the World Accra coverage
which has raised immense awareness and thousands of dollars for the World Food Program provides food to the World's most vulnerable hunger victims. He is currently involved with SAVE OUR CHILDREN - Orphanage Campaign Africa which raises funds and awareness for orphaned children via celebrity endorsement and other innovative campaigns. Previous campaigns include orphanage visits and fundraining in Sierra Leone and Liberia.
__________________________________________________________
That's it Folks! Have an absolutely fabulous week!!!! Pleaaaaaase leave your comments 'cause that's what makes it all worth it! In case you missed the First Edition or the Year End 'Best Of 2006' Review just click. Ciaooooooooooooooooooooooooo!