If you went to Nigeria this past Xmas, I am sure you OD'ed on attending weddings.
Your sister, brother, cousin, best friend or even school mother tied the knot and you were there to celebrate with him or her.
I am sure you were probably impressed by the quality of the event.
The decorations were on point; everyone got come food or at least was better than what you have experienced in the past.
The business of wedding planning is huge in Nigeria!
From pioneers like Yewande Zaccheaus of Eventful Limited to the established youngsters like Omolara Akinosho of Just Weddings.
The art (ok…it's not really an art but u get my point) of planning weddings is on the rise in Nigeria.
Here are two of my favourite young event/wedding planners.
I have attended weddings and other events that these ladies have organized and they were really on point!
I present Funke Bucknor of Zapphaire Events and Ibidun Ajayi of Elizabeth R
Ibidun Ajayi of Elizabeth R
is one of the most sought after event planners in Nigeria. She is reputed for her ability to 'think outside the box' and deliver creative event ideas. Ibidun entered the public eye when she won the Miss Lux Beauty Queen title in 1998; she took a short timeout from the popular scene to graduate from the University of Lagos and hone her event management skills. She came back with a bang when she launched her event planning firm, 'Elizabeth R'. Since then, Ibidun has planned and packaged many high profile events with dazzling results and consistently receives rave reviews from clients and guests.
Check out Ibidun's work from Sylvia Edem's 2006 wedding to Christopher Emechete (the couple met through a friend via the pages of Ovation! long story...) which I talked about some months ago...
HERE
. It's the one with the infamous 'vieled horse drawn carriage'. Creativity at its best!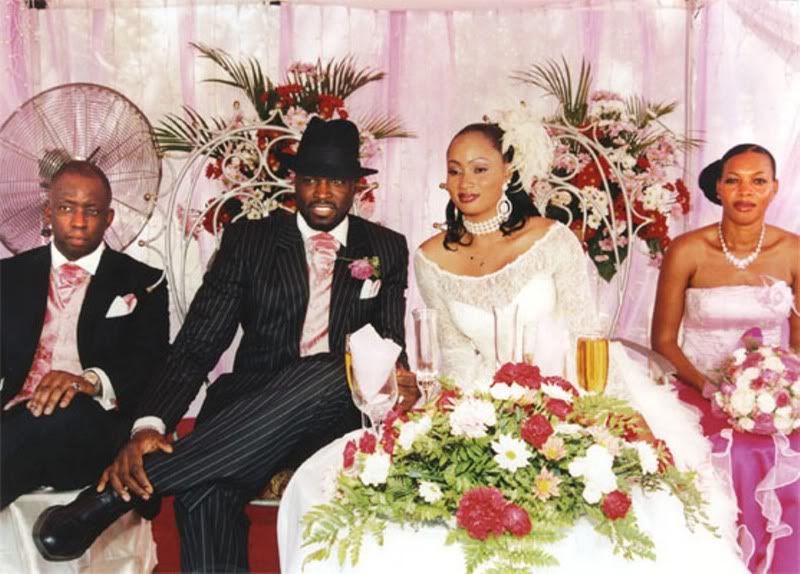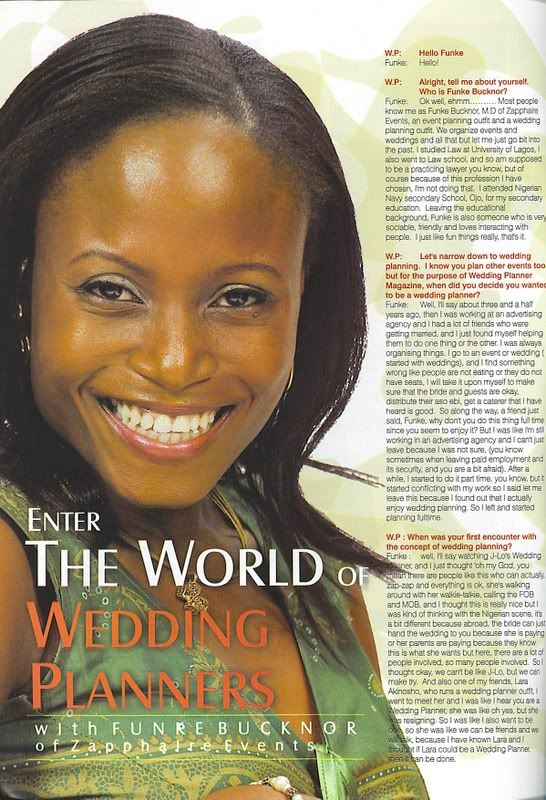 Funke Bucknor of Zapphaire Events
is known for her bubbly personality and her uncanny ability to deliver top-notch events on a wide range of budgets. Anyway, she is really talented! There is no need for me to say more…..just click on the pics below to read her interview from the 'Wedding Planner' magazine (it's a fab wedding mag by the way…all prospective Nigerian brides need a copy)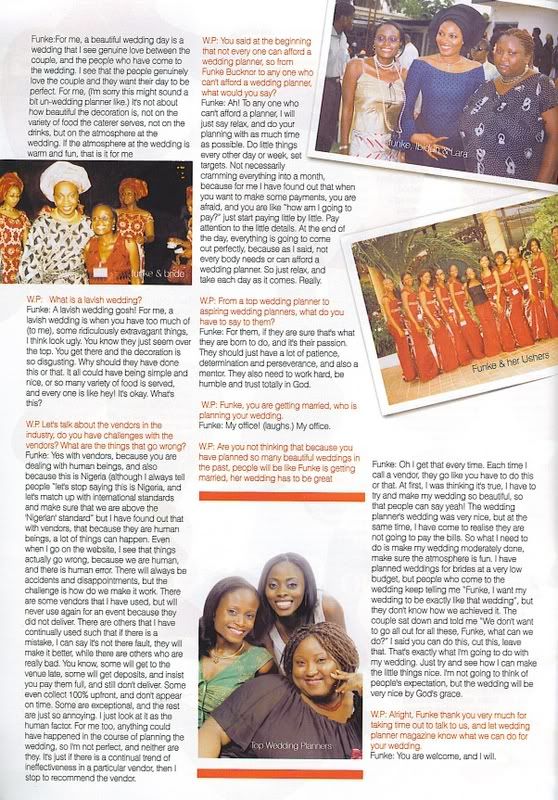 BTW, I just have to say, thanks for all the luv, I'm always so blown away when I read the comments…..have a great day.
Check it out and let me know what u think! Tell us your wedding stories….any fun experiences - do you love weddings, crash weddings and stalk wedding websites or do you hate weddings and never want to get married?…lol…Let us know!