Hi Everyone!!
What's going on?
Hope u had a good week…I had a really fab week actually and next week should be interesting to say the least…
The last month has been a whirlwind….I have barely had a weekend to myself but I am totally not complaining, I am very grateful to God for the blessings!
I am so bad when it comes to remembering people's birthdays and such so since today is the last day in May, Happy Birthday to all my May sweeties! Hope y'all had fab birthdays…God bless!
It's been a while since I've done Weekend Luv so let me attempt it today.
Styl Plus is out with a new album.
Yay! I love Styl Plus…Infact, I am almost a 'stan'. I hope that the new album does well. I am feeling the tracks I have heard so far though.
Styl Plus New Album - Tracklist
1 - Four Years
2 - I No Want Trouble
3- I Don Tire
4 - If You Go
5 - Beautiful Ladies
6 - Mi O Ba E Sere Mo
7 - Still Gonna Love You
8 - Candy Man
9 - When You Smile
10 - Longing For You
This is just a taster, please support them and go and buy the album
The Nigerian music scene is growing and developing - its great to see some Nigerian acts diversifying in terms of the music they are producing. There is a new genre emerging – something along the lines of Naija Soft-Rock. Often times, their songs are gospel tinged such as the very popular, Lagimo.
Check out another artiste that is making waves –
Nikki Laoye with her song, 'Never Felt This Way Before'
which coincidentally was also produced by Cobhams.
Unbiased also did a recent feature on her. Check on it
HERE
I have been searching for this song for ages! Its called
'Oju Ife Lo' by Abuja-based artiste, SLK
– Luv it!
Interviews
Check out some recent interviews:
Genevieve Nnaji Interview
– She talks about her new fashion label, St. Genevieve and her other projects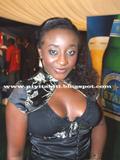 Ini Edo Interview
by Stella Dimoko Korkus– She responded to the allegations that she was arrested in the UK for trafficking drugs (The Nigerian press gives Ini such a hard time.....I hope they ease off)
Photo Credit:
Niyi Tabiti
RIP to Elder Steve Rhodes and Sammy Needle. They have both passed away due to illness. With the passing of Sunny Okosun, this brings the deathtoll of Nigerian musicians to 3 this month :( I pray their families are well. Read more at
Ayeni's Blog
I just can't resist posting this!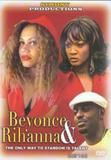 There is a new Nigerian movie called
Beyonce Vs Rihanna
Nadia Buari as Beyonce, Omotola Jalade as Rihanna and wait for it…Jim Iyke as Jay-Z.
Jesus Take the Wheel! Seriously….why????
That said, U know I will still see the movie…LOL
Nollywood is crazy!. One of my fav blogs,
Hair By Azara
also blogged bout this.
You can watch online (watch out for the pop-ups)
Part 1
Part 2
Part 3
Part 4
Also check out these new initiative by some female Nigerian bloggers including Overwhelmed, Catwalq and many others called '14th and Serenity' -
HERE
. WoW. Very creative.
Have a fab weekend y'all!
Ciao