Hey Everyone!!!
How was your weekend? Mine was actually really good, even though I
couldn
't do all the stuff I planned on doing but it still turned out pretty well.
So what did you get up to?
I am always
sooooo
gutted when I realize that Monday is only a few hours away! Back to work, back to work...
ohhh
I just remembered that I have a work training thing for the next couple of days so I am going to be in a hotel in the middle of nowhere…oh well!
Anyways, lets get down to the business….
It's another RUNDOWN!
Weddings
Congrats to the couples. One word - GORGEOUS
Ndidi

&

Uzoma
- Wedding Photos
Banke

&

Bolaji
- Wedding Website
Richard wins Big Brother Africa II
Richard
Bezuidenhout
has won Big Brother Africa II. Despite the
sexual assault allegation scandal
, Richard still scooped the $100,000 prize.
Ofunneka
came second and Tatiana came third. Congrats to him, I just hope the allegations are not true and the 'activities' with
Ofunneka
were consensual but I still have my reservations.
Munachi

@ Miss World Pageant
MBGN
Munachi
Nwankwo
-
Abii
celebrated her birthday at the Miss World 2007 pageant. Congrats girl! Wish her the best at the pageant. View
Munachi's
interview from
Funmi
Iyanda's
Dawn on 10.
Tara

Fela

-

Durotoye

OUT of Celebrity Takes 2
Tara

Fela

-

Durotoye

is the 1st celebrity to be voted off Celebrity Takes 2.

Read updates on Celebrity Takes 2 on
Reality-Unbiased Blog
Check out an interview with Tara from the Punch on Sunday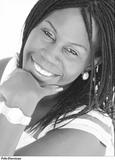 D'Banj

@ the MTV Europe Video Music Awards
It's no longer news that
D'Banj
won the Best African Act at the MTV Europe Video Music Awards but what IS news is the
kokolistic
(yes, that's a word!) poses
D'Banj
decided to unleash on the press. Click on the 1st pic to check it out. Congrats to him anyways.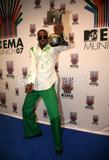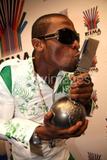 I-G-N-O-R-A-N-C-E
I read this article and it just pissed me off so much. What is even more disturbing is that it was written by a woman! Nigeria really has a long way to go. The press especially should start realizing their impact on society. The ignorance
demonstrated
in this short article is very damning. Click the photo below or read the quote below.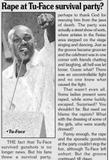 ''Some ladies present were raped, while some luckily escaped. Surprised? You shouldn't be. But need we blame the rapists? What with the dressing of some of the girls, who were scantly dressed?''
See how she flippantly said women were raped and then went on to 'blame' them for dressing scantily, as if they deserved it!!! Jesus Take the Wheel.
Kanye

West's Mum Dies
She allegedly died from an allergic reaction to medicine while getting a breast augmentation and tummy tuck. Reminds me of Stella
Obasanjo
RIP.
That's it for today! Have a fab week....