Hi Everyone,
How is your week going so far....
Hmmm.....I've got something HOT coming up this week..
Hopefully, it'll be ready by Thursday.
So here is another Idols WA update...I know some of you are sick of it by now but its getting close to the finish line so we might as well finish what we started....
This week's episode was exciting because
the Idols West Africa presenter, Mike Majic proposed to his fiancé during the show
. According to the Idols WA website, Here is how it went down…
"A young lady was randomly(?) picked from the audience by Timi and Eric. She stood on the stage and a song began to play – 'Liberian Girl' by Michael Jackson. Then a message appeared on the largest of the screens on the stage – "
A message from Mike Majic…Malia…Will You…Marry Me?
" The crowd shared in the magic (pardon the pun) of the moment as Malia stood on the stage bewildered by what was happening. Her boyfriend of 7 years was finally (!) proposing and he was doing it in front of hundreds of people, in what can only be described as a fairytale proposal!"
Awwww…
"Malia was hesitant to speak after the proposal, saying that she had not yet told her parents. She confirmed that the song was a tribute to her Liberian nationality, that the two of them had met in church seven years ago and that Mike is, "Really sweet and caring."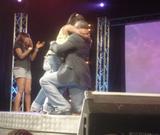 ____________________________________________________________________
Timi - 'Flying Without Wings' by Westlife
Timi - Michael Bolton's 'How Am I Supposed to Live Without You'




Omawumi - Mary J. Blige's 'Be Without You' – The judges said her performance was terrible but I don't think it was that bad…
Omawumi - 'I Will Survive' by Gloria Gaynor


Eric - Seal's 'Kiss from a Rose'
Eric - Lionel Richie's 'All Night Long'




Jerrilyn - 'Never Too Much' by Mary J. Blige
Jerrilyn - 'The Voice Within' by Christina Aguliera – Surprisingly ok – but she was still voted OUT


Temitayo - 'I'm Your Baby Tonight' by Whitney Houston
Temitayo - 'Reach' Gloria Estefan











That's it for today....Let us know what you think about the proposal and the performances.....Also what do you think about the Idols WA fashion (outfits, hair, makeup etc...) so far? Have a fabulous day. Kisses!~