Hey Everyone,
So how was your weekend?
Hope it went well...
I was going to put up some pics from the ThisDay Awards and Vagina Monologues but I think that most of you have peeped them by now. If you want to check them out, go to
www.purefoto.com
It seems as though Monday has become our West African Idol day...
I hope y'all are not sick of the show yet.
Here are the performances from last night.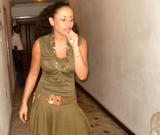 Ama Ejisu-Akropong
'Strong Enough' by Cher
- Hmmm...her performance was below average. I just wasnt feeling it but she looked good.
Confidence Rufai
Dido's 'Thank You'
- I love Confidence and I love this song but the combo was strange...her deep voice just wasnt a good fit for the song
Mercy John
Sinead O'Connor's 'Nothing Compares To You'
- She reminds me of Yolanda Adams...what do y'all think? Anyway, her excessive facial expressions distracted me from her performance...but her voice was strong.
Ernest Darkwa
Lonestar's 'Amazed'
- I think he had one of the best performances of the night...
Michael Alao
'Take a Bow' by Madonna
- Where do I start....the dancing? the hair? hmmm
Jodie Odiete
'Have You Ever Really Loved A Woman?' by Bryan Adams
- She did ok. I just didnt like the song choice.
Vote fast because voting ends at 13:00 Central African Time -
HERE
UPDATE
: Voting is over - Jodie and Mercy are through to the Top 10...I think Ernest should have gone through though!
A lot of people have been asking about Syntyche, below is the official statement from MNet. I guess she had to make a choice of music vs. her education and she chose the latter.
'Though some, like the much-talked-about Syntyche from Abuja, did marvellously well with their powerful voices, they were not prepared to take on the task of becoming an Idol in its entirety. As some have conjectured, the 18 year old decided her studies are her main priority at this time in her life'
Watch the vids and let us know what you think! Who are your favs so far? Who was the best of the night?
Have a great week...Ciao!