Hi!!!!!!!!
What's good? Hope the week is going well....
I have no comments about this week really! Its just been stressful! I feel like screaming. My boss is driving me up the wall, the rain ruined my hair and much more! lol On the bright side is that the weekend is going to be fun and half of next week is going to be spent doing nothing but pampering myself so I have all that to look forward to!
Here is a rundown.
Check out the cover of the new
Genevieve Mag
. I love
Kate Kenshaw
!! She's looking really fab. I dont normally like that hair colour but it suits her well. Pick up your copy!
It seems like its all about green this month and its not even October (For our non-Nigerian readers - October is Nigeria's traditional green month because of Independence Day). All the mags seem to have some sort of green theme. Anyway, here is the cover of blogger extraordinaire, Linda Ikeji's
FM&B Magazine
. It features model, Chinwe Ezeribe on the cover and as you can see covers some interesting topics. Luv that Linda is not afraid of controversy. As blogger
Cheta
says 'No bladdy fears'! Support young female entrepreneurs! Buy your copy.
Aww, its Kate again, covering
Exquisite Mag
. Kate is really on fire! She has paid her dues and totally deserves all the success.
Check out the cover of
Naeto C
's new album,
You Know My P
! Its out NOW! More on that next week!
No matter what side of the debate you are on, there is no doubt that the ThisDay Africa Rising Festival is going to be fun! Ticket Prices and other details below.
Jay-Z, Naomi Campbell, Usher, Youssou N'Dour, Mary J Blige and Rihanna and Nigerian stars, Faze, MI and many more....
Fashion icons, Ozwald Boateng, Tiffany Amber, Alek Wek, Chris Aire, Momo and Oluchi are all going to be there.
ABUJA
Date: Friday July 11th, 2008
Venue: Thisday Dome
Time: 6pm

LAGOS
Date: Sunday July 13th, 2008
Venue: Thisday Event Center
Time: 6pm

Price:
Entry fee – N10,000
Student entry fee (with ID) – N5,000
VIP – N50,000
Golden circle – N60,000

Tickets are available at all Diamond bank branches and Thisday Media stores. I'll probably be at the Lagos one.

Check out photos from the Mode Magazine Black Party II hosted by Kate Henshaw-Nuttal & Stella Damasus Aboderin. They also featured a mini-fashion with collections from Alvince Couture, Effiici & EXCLAMATION by Babajide Familusi.

Lara & Gbenga George - Steve BabaEko (Congrats to Steve, his wifey talented photographer, Yetunde just had another baby boy! Congrats! I did a mini-feature on ther wedding in 2006. Time flies!)

Kelechi Amadi-Obi - Ade Bakare
Frank 'Papas' Okamigbo of the famous 'Naija For Obama' party (its that serious!) - Djinee - Frank Edoho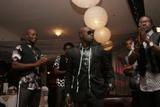 Finally, the new video from Bella Naija Fave, 9ice featuring 2Face - Street Credibility

Have a fab rest of the week and weekend!
Make sure u visit 2 of my fave blogettes -
Naija Fashion Freak
&
HairAzara
Ciao