Hi Everyone!
How is it going?
Hope you had a great weekend.
I had a fab weekend....
I got to hang out with some of my friends, went to see a movie, went out for dinner etc...was chilled but fun.
I also got to speak at a youth event at my church. It was interesting....
Anyways, so many events have been taking place all over Nigeria and in Nigerian communities all over the world, here are some tidbits...
SILVERBIRD

PRESENTS: A NIGHT WITH P-SQUARE
Photo Credit: Cecil Hammond
Nneka
- Shank -
Wildchild
&
Koffi
Shirtless! - Weird MC
Kaffi
& dancers - P-Square
Idols
WA's
Timi & Jerrilyn - Mo Hits Crew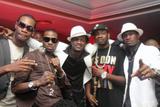 Serenading a fan -
BBA
2's
Ofunneka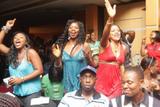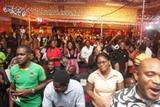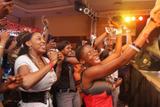 NITE

OUT WITH

NOLLYWOOD

STARS EVENT
Photo Credit: Harry

Baba
Regina

Askia
Emeka
Ike - Jim
Iyke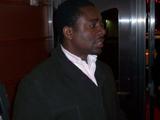 SI SWIMSUIT ISSUE EVENT
Oluchi
- Looking fab as always!
There is something I have been meaning to talk about but wanted to ensure that I was
knowledgeable
enough before speaking out.
A couple of weeks ago, I was reading
Jeremy

Weate's

Naijablog
and spotted a blog post he did a proposed 'indecent dressing/public nudity bill' by Senator
Eme
Ufot
Ekaette
.
I also saw an episode of
Funmi
Iyanda's
show where it was discussed by female activists -
HERE
In the bill, indecent dressing is COMICALLY defined as:
i: the breast of a female
above
the age of 14 years
ii. the laps of a female above the age of 14 years (
bella's
note: please go and throw away your shorts, skirts and dresses!)
iii. the belly or waist of a female above the age of 14 years
iv. any part of the body from two (2) inches below the shoulders downwards to the knee of a female person above the age of 14 years
v. any part of the body of the male person above the age of 14 years from the waist to the knee
etc...visit
naijablog
to see scans of the actual bill -CLICK
1
,
2
,
3
,
4
,
5
,
6
Punishment for the above 'offences' and the other items described in the bill include jail terms and fines.
Seriously, this just makes me weak. With EVERYTHING, that is going on in Nigeria, especially the poverty, abuse etc.. that many women are facing, I cannot believe that the best thing a FEMALE senator, who is the Chairperson for the Committee on Women Affairs, Social Welfare and Youth Development in the Senate could come up with.
I cant even imagine the chaos that will ensue if this is passed. Lecherous policemen will stop women and ask them to twirl around so they can inspect their clothes. Perhaps they will carry tape measures and start checking if you are breaking the law...no doubt this will give them police people ample opportunity to 'touch and feel', after all they would simply be doing their jobs. I am sure enrollment at the police academy will sky rocket!
See the photos above, just imagine, under this bill,
Kaffy
,
Ofunneka
,
PSquare
and others would be guilty of indecent dressing or is it public nudity! Sad.
Anyway, what do you guys think about this? What can we do to stop it?