Hey!!!!!!!!!!!!!!!!
What's good everyone???
I am in such a good mood today……despite the fact that work is hella busy today and my feet still hurt from walking around in high heels all day yesterday.
I joined the gym like 3 months ago and I have only gone 5 times….that is just so typical of me….I think I am going to hit the gym hard this weekend! No excuses, no going out, no going shopping! Just the gym and sleep!
I am soooo excited, one of my lil' sisters is coming to see me next weekend so I have to start thinking of fun things we can do…..hmmm she will probably just x me and go out with her friends but its all good really.
Anyways, is this Weekend Luv? I think it is!!!
Blogs & Sites
The Tiger Roars
Reality Un-Biased
Wedding Vogue
Debola Lagos
Bobo Omotayo
Oyin Bella
(why must you swagger jack my name lol!)
Arewa
Zena
Chakams
Xena In the City
Hopeful B
Fortune the Alter Ego
Stella's Groove
The Mrs. Club
There are just way toooo many blogs and things around the place I cant keep up! So if just hola if you want me to shout out your blog
Wedding Webbies
I totally respect your privacy so if you want your website taken down. Hola.
All the couples are so cute tho and I wish them the best in their unions.
Funmi & Dikko
Ope & Lanre
Adeola & Obi
Titi & Dayo
Bola & Busayo
Majella & Chiji
(Stolen from
Adaure
)
Clicks
RIP to Lucky Dube. He was shot dead yesterday
This is sooo sad. Africa needs to stand up and progress beyond this sort of tragedies. We are just getting over 2Face getting shot and then this happens. Sad.
Check out Bimbylads Online Novel
I read through it on Monday. Very interesting so far.
Naijagal has pics of the BlackEyedPeas in Nigeria
Concert was sponsored by Pepsi
Ladybrille interviews Ayo
Indepth interview
Events
Press Release from mylifestylesolutions. Start Xmas Shopping Early!
It's authoritative the international contingent are flying in for Lifestyle Christmas Solutions October 28th in Lagos. Adebayo Jones is coming in fresh from showing his spring collection at New York Fashion week. Lifestyle Christmas Solutions guests will be the first to get a sneak-peek of the new collection...
Battling with hair-line hair loss problems? Don't worry, Hair Solutions will be in town to show us the latest techniques straight from the U.S. Join celebrities like Beyonce and Tyra Banks in the latest invention to hit the hair market..made with 100% human hair.quality craftsmanship...latest invisible hairline technique.renowned hair expert Hetty Gymah will be available in person to give private consultations to lucky Lifestyle Christmas Solutions guests..fresh from the successful opening of his hot new shop at Sandiland Mall V.I, Virgin Nigeria's newest partner, International Designer of The Year, Ade Bakare will be jetting in from London with his stunning new collection. Shall keep you posted!
Poppin'
I have been willing to put up the
HauTe Mag – Fashion Nigeria launch party
for ages.
Oh well, here they are: Models, Oluchi and Ojy Okpe attended the event along with Studio 53 presenter Kemi Adetiba and Stylist, Chalya Shagaya. There was a fashion presentation by Chichi & Chichi E., Cranberry, and Linany Couture.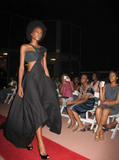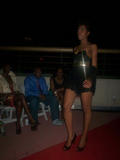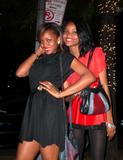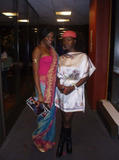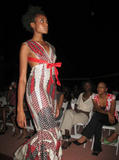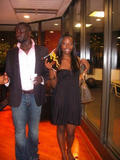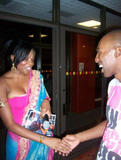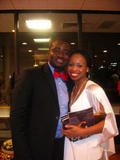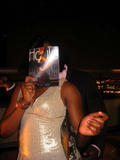 To Do

Nominations are now OPEN for
the Future Awards 2008

Go ahead and nominate whoever you feel deserves the awards - nominations began to be accepted from all over the country, for young Nigerian achievers aged 18 to 31 who are crashing ceilings, and breaking boundaries in different sectors.
The new 15 categories unveiled: Artist of the Year, Professional of the Year, Entrepreneur of the Year, Entrepreneur of the Year (Beauty & Style), Music Producer of the Year, Screen Producer of the Year, On-Air Personality of the Year, Actor of the Year, Musician of the Year, Magazine of the Year, Journalist of the Year, Best Use of Technology, Best Use of Advocacy, Best Use of Goodwill, and Young Person of the Year. Nominations close on the 31st of October 2007.
Nominate
HERE
Vids

Asa is soooo talented!
Here is her video:
Asa – Fire On The Mountain

She and TY Bello are just in a league of their own.
Wyclef, Nia, Akon & Weezy – Sweetest Girl

I loveeeeeeee this song! Positive meaning and melodious tune! I know Wyclef isn't African but he's close enough.
Hits
Wande Coal & D'Banj – Booty
This song is about such a daft subject that I refused to listen to it for weeks. I finally listened and I was totally hooked! It's a funny song but the chorus is just sooo catchy. I listen to it all the time. Check on it!
Oladele Ft Eldee – Spray Me Money Rmx
All the tracks I've heard from Oladele's new album are soooo hot! Is it out yet? You guys need to get a copy ASAP! Check out this teaser from the album….Spray me money Rmx. The song just makes me laugh! Luv it!
Check out his myspace -
HERE
Cop the album on itunes
HERE

Banky W – Umbrella/Ebute Metta
Y'all should have heard this song by now right? Banky's take on Ri-ri's Umbrella. Someone was telling me that she has heard it and was impressed. Don't know if its true but I'm feeling it!
Have a fab weekend!!!
Kisses and Much Love
Bella