Hey Everyone!
LOL! All the comments from
the previous post
were just so funny! I cant believe that I forgot some classics like clogs, bodysuits etc….Love it!
So how was your weekend? Mine was really nice! ~Thanks babes~
I got to meet some bloggers, such a trip….Love it!
So what did you get up to this weekend? Let us know…
There are so many Nigerian designers both at home and in Diaspora and I think that is such a great development.
Just goes to show that we are tres fabulous and very talented.
Buki Peters
is a Nigerian jewellery designer as well as a fashion stylist.
She was born in Nigeria and moved to the US when she was 11. She enrolled in New York's Fashion Institute of Technology in 2002 and has been working in ever since!
Check out Buki's website –
HERE
And a recent interview -
HERE
Check out some of Buki's pieces below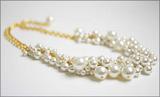 Entertainment Bits
:
The ban of Nollywood actress and True Love West Africa covergirl,
Ini Edo
has been lifted. I don't really watch Nollywood movies as much as I used to (I confess that I was an addict!) but I actually like Ini Edo despite all her overacting and incessant eye-rolling lol…Glad she's back.
Here is an interview with
Weird MC
, she 'explains' why she is not married. Why do Nigerian women have to 'explain' why they are not married? I don't even know why these 'celebs' bother answering some daft patronizing questions sometimes. I like Weird MC, she's very individual and seems like she is definitely being herself. To hear her new single, click
HERE
Baby News!!!!

Yes, I know some of these people had their babies months ago and I previously blogged about all the Nigerian celeb babies, wanted to do an update with the baby names etc...

All Courtesy of The Tide Newspaper
"Top female actress,
Caroline Ekanem
is having the time of her life right now as her hubby is spoiling her silly as a result of having a baby boy for him.
The super rich big boy, Musa Danjuma, is the younger brother of board room guru and former Defence Minister, General Theophilus Danjuma.
Ever since Caroline met Musa Danjuma, a director in Southern Petroleum (a crude oil exploring company) her life has changed for the better.
The University of Calabar Diploma holder who used to live with her grandmother in Oke-Ira area of Ogba in Ikeja now leaves in affluence.
The actress, who had a quiet traditional engagement with Musa, a divorcee in Eket Akwa Ibom State last year has moved into her Duplex in Omole Estate, Ikeja, bought for her and the child when she delivered the baby boy for Musa.
The duplex which is said to be tastefully furnished with furniture from Italy has all the trappings of a king's mansions
(really?! LOL).
The house gift came shortly after she delivered the baby.
It was gathered that the house has a small art gallery because Musa is a Commissioner of Art. He did not only buy Caroline a house, he also bought her two cars, Honda Accord and Mercedes Benz jeep.
It was also disclosed that very soon, Caroline will return big time to film production, as a studio would soon be put in place for her by her Musa. This would enable her do a lot of television production including documentaries, adverts and editing jobs.
According to a source, Caroline has moved in with her grand mother who helps wth the care of the baby .
She also has two female househelps
."
LMAO! I am happy for Caroline's marriage but Nigerian newspapers made LAWLLLLLLL! What is our business if she has 2 househelps LOL…OMG Only in Nigeria
Ex-Miss Nigeria,
Sylvia Edem
, who last year April in lagos got married to UK-based Chris Emechete, has joined the club of new mums.
The light skinned ex-queen delivered of her first baby, a girl on the 13th of July 2007 in a London hospital. The baby has since been named Chanelle Ada Emechete, and both mother and child are said to be doing well.
Desmond Elliot
: This handsome top Nollywood star is probably the happiest man on earth today as his marriage of many years recently produced a set of twins, both boys.
The boys were named Denzel and Desmond
at the dedication ceremony which took place in Ilupeju Bypass Lagos. (Denzel…for real? LOL)
Oge Okoye
: This screen diva's baby dedication came shortly after that of the Desmonds. It was held at St. Leo's Catholic Church Ikeja, while the party was held at Do It All on Opebi. Her boy's name is Chibuike. The Threatre Arts graduate of Nnamdi Azikiwe University Awka is married to Stanley Duru, from Awomama in Imo State. The Holland based international businessman is said to be so generous that
he presented Oge with a breath taking Jaguar jeep as a wedding gift
(reallly??? lol).
"My lovely husband was so bowled over by my loving, romantic and charming nature that he immediately proposed.
I exude the sort of charms that many girls lack and that is why my husband wasted no time in marrying me. Romance was the major weapon I used in clinching my Guy
", Oge disclosed.
Georginia Onuoha
: She is one of the Nollywood's sweetest and most adored actresses. The beautiful lady and her wonderful husband, Dr. Charles Igwegbe dedicated their baby girl, Maryann a week after Oge's. Their families and friends were hosted at the couple's magnificient home in Omole.
Chioma Chukwuka-Akpotha
: The beautiful down to earth talented actress also had her baby boy in April shortly after that of Georginia. She and the husband also hosted families and friends and looks exceedingy happy and grateful to God.
On the international scene, here are new photos of
Kim Porter and Diddy's twin girls
, D'Lilah Star and Jesse James. They are cute but they look nothing like Diddy!
Tht's it for today!
Have a great week!!!
Those of you on holiday.....I hate y'all! LOL
Those of you working, we shall survive!
Ciao...
Kisses....