Hey Everyone,
I'm sooo glad to be back - to blogging….not work :(
So how was your week? Did you get up to anything interesting?
We would love to hear about your adventures….
Lets get right into it! This is Weekend Luv – The Rebound Edition
The Blogs
Bitchy In The City
I just discovered this blog yesterday. I like it! Strong opinions presented in a witty way….
Yellow Paw Paw
**Explicit** **Not Safe For Work**
So my friend calls me while I'm on holiday and says I HAVE TO read this new blog….I read it and
honestly its not really my type of thing
…but people are talking about it tho…I say check on it. Supposedly the life and times of some 'mixed race Nigerian girls'.
The Jump-Off

Ruggedman's Album Release Party
@ Planet One
Vagina Monologues
presented for the 2nd year running – Joke Silva, Kate Henshaw-Nuttel and Rita Dominic are part of the cast
Laspapi's new play 'Anatomy of A Woman'
featuring Stella Damasus-Aboderin – I'm sure it will be fab!
Hot Off The Press
Nigeria's numero uno rapper
Sasha is interviewed by Naijavixen
–
HERE
Whatever happened to
Jay-Z's UN Water For Life Campaign
? Was it just a publicity stunt? –
HERE
Aramide's Blog is 1
! Congrats Girl! I am still waiting for my mojito and party pack!–
HERE
Dare Art-Alade is married to Deola Ayeni
! Congrats Dare and Deola…Dare, Deola is a fab woman…u r lucky to have her. Deola u stole my crush! LOL I wish them a very happy and blessed marriage –
HERE
Diana Ross
throws a strop at the ThisDay Awards -
HERE
Model,
Ifeoma Jones
gets signed to Ford Model Management New York -
HERE
London 'Black Cabs'
have arrived in Abuja
Nigeria's New Legal Tender
HERE

Not Bad….LMAO @ the pic of the Central Bank VP flashing the cash like he's in a rap video…
On the other hand, this baby boy is sooo cute…is he wearing lipstick?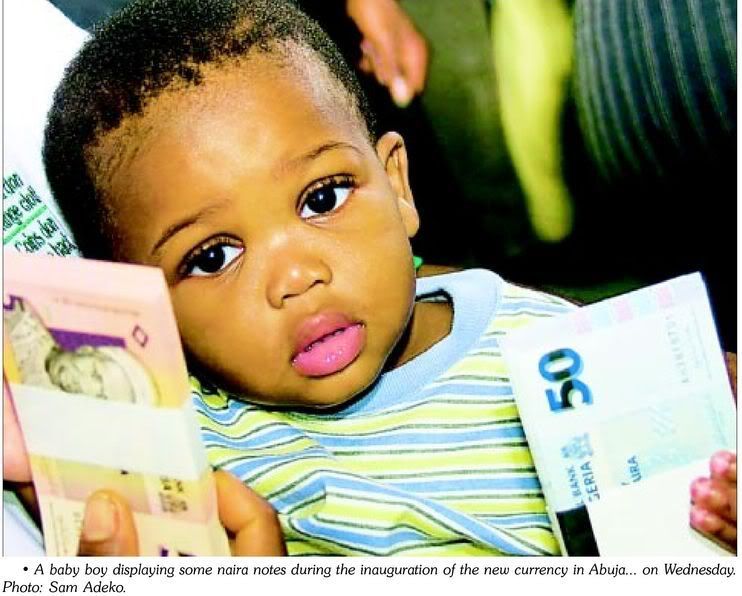 This is sooo cute! In Indonesia, a pair of four-week-old Sumatran tiger cubs have become best friends with some baby orang-utans while sharing a room at an Indonesian zoo. They were rejected by their respective mothers...aww :( In a couple of months, when the Tigers start eating meat, I guess the friendship will be over.
The Hits
2Face – See Me So
I like this song from 2Face's new album, Grass 2 Grace. His new album is hot and has a wide range of songs….u should buy it!
Sound Sultan – Area
I got this song from Uzo and absolutely fell in love with it. I love the melody and the message. Kudos to Sound Sultan!
Daddy Showkey – Diana
This one is from the vaults! Old song but AJ boy Daddy Showkey….I love the message behind it!
Bonus Download: Beyonce & Shakira - Beautiful Liar
I luv the song....kinda different flava from the usual Beyonce stuff but still very hot. The vid is hot too.
That's it folks! Enjoy!
I'm so glad y'all r back! Leave your comments and let me know what is going on and what you think!
What is the first thing that pops in your head when u see the pic of the Central bank guy 'flashing the cash'...LOL...let us know
I haven't had a chance to check my email so if you emailed me, I'll reply you today…
You can hola @ me anytime at
bellanaija@gmail.com
I will go and investigate Synteche's disappearance from Idols West Africa ASAP.
Ciao,
~Bella