Hey Everyone,
What's good? How was your weekend? Hope it was good.
So I already planned some huge blog post for today but I just couldn't find time to put everything together so that will be up tomorrow.
In the meantime, lets check out Idols WA (Group 2) from last nite.
They are currently going through the Round of 24.
The top 2 from each group of 6 go through to the Final 10.
At that point, the judges pick 2 wildcards to join them in the Round of 10.
So far
Omawumi
and
Timi
are through to the Top 10.
You can also read some inteteresting articles on
Ibitoru
(She's been through A LOT + I didnt know she has 2 daughters - ages 14 & 8...Wow, I hope she makes it back) and
Lara
Anyways, check out the performances and let us know what to think!
Don't forget to vote online, via phone or SMS.
For voting details - numbers etc... Click
HERE
To vote online - Click
HERE
Jarry
View Video
- sang 'Foolish Games' by Jewel (luv the song and his rendition was ok but the lyrics were hard to decipher)
Oge
View Video
- sang 'Crush' by Jennifer Paige (no, she didnt do the song justice)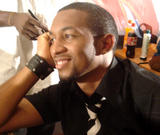 Eric
View Video
- sang 'Angels' by Robbie Williams (not bad but dude is eye-candy so I'm voting for him)
David
View Video
- sang 'Change the World' by Eric Clapton (he actually did well...)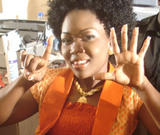 Jerrilyn
View Video
- sang 'Don't Wanna Miss A Thing' by Aerosmith (Everyone knows I am rooting for her but the singing was mediocre at best...I expected better from her)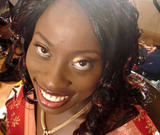 Oluwadolapo
View Video
- sang 'I Swear' by All 4 One (I like her, she seems so bubbly and friendly but the singing was .......)
Roundup
View Video
Jarry did well, Oge was just okay, David was alright, Jerrilyn was so-so even though I really like her because of all she has been through. I like Oluwadolapo but her entire performance was off-pitch and off-key. I think they all did well but considering the quality of Group 1, I was very disappointed in this group!
Well,
Eric
and
Jerrilyn
were the
Top 2
from this group. They now join So far
Omawumi
and
Timi
in the Top 10.
Anyways, what do you think?
Have a great week and I'll have something hot tomorrow...
Ciao